Our veterinarians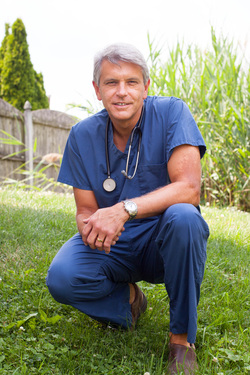 Dr. Greg Hahn

Practice Owner, Veterinarian

Dr. Greg Hahn has never forgotten the advice he received from his Purdue University Veterinary anatomy professor. As Dr. Hahn recalls it, the professor urged his students to dig deeply into each patient's medical history and physical environment, and complete a thorough physical exam, before drawing a conclusion about their current problem. Dr. Hahn still follows that professor's advice, and leaves no stone unturned in diagnosing each patient's condition and prescribing the proper treatment!

Greg was born and raised in West Chester, Pennsylvania, where he often visited his grandfather, who managed a 350-acre estate for an absentee owner. Young Greg gained exposure to unusual wildlife such as large snapping turtles, pheasants, ducks, and various snakes. Graduating from Henderson High School in the top 5 percent of his class, Greg wanted a rural college setting, so he chose Bucknell University in Lewisburg, Pennsylvania. Greg graduated Magna Cum Laude with a Bachelor of Science in Biology and a Minor in Biochemistry.Greg received his introduction to veterinary medicine by working at his family veterinarian's practice during high school and college. In fact, this well-seasoned veterinarian, who was an excellent diagnostician, served as the inspiration for Greg's veterinary medicine career. Greg had considered human medicine, and even volunteered at a local hospital emergency room, before concluding that he would prefer working with animals.

Greg was excited to be accepted into the Purdue University College of Veterinary Medicine.After graduation from veterinary school, Dr. Hahn worked at a large six-doctor practice before moving back to Chester County. In September 1992, Dr. Hahn established Main Line Veterinary Clinic, with valuable assistance and partnership from his wife Elizabeth. A Registered Nurse, she provided many insights gained from her human medical career.While Dr. Hahn enjoys a rewarding general veterinary practice, he also cultivates his interest in internal medicine, especially endocrinology. Dr. Hahn thrives on challenging cases; for example, he enjoys the difficult task of regulating diabetic dogs and cats. Dr. Hahn also likes to manage chronic skin/allergy conditions and he frequently collaborates with regional cardiology and ophthalmology specialists.Dr. Hahn also leads a full life away from the hospital. He and Elizabeth have four daughters. Dr. Hahn.In their leisure time, Dr. Hahn and Elizabeth love to spend time on a beach – anywhere – but their schedule rarely allows this.Finally, Dr. Hahn has always been surrounded by sweet, loving dogs. His family has been very fortunate to live with several great dogs: Champagne, a Golden Retriever, and Clementine, a very smart Australian Shepherd whose memory will live in their hearts forever. Currently, Dr. Hahn and his family have three dogs, two Coton de Tulears and a Goldendoodle. Of the two Cotons, Bellini's intelligence easily makes her the pair's leader, while Asti is content to go along for the ride. Lucea, the Goldendoodle, comes to the office frequently and loves meeting new people.


---