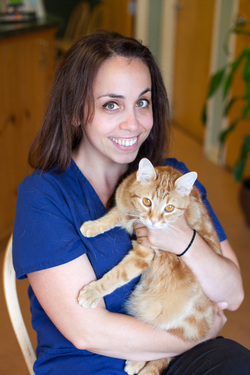 Liz Williams

Veterinary Assistant/Technician/Lead Receptionist

Liz Williams' teenaged familiarity with farm animals spurred her to enter the veterinary medicine field. During her high school years in Malvern, Pennsylvania, Liz' father purchased a small farm with its own assortment of farm animals. Liz quickly became acquainted with horses, pot-bellied pigs, chickens, four dogs, and several barn cats. Liz thoroughly enjoyed life with the animals, and this pleasant experience enticed her to enroll in a small-animal course at her high school. Liz found the course fascinating, and she developed a desire to begin working with animals. When Liz graduated from high school, she found her first animal care job. Today, Liz enjoys taking excellent care of her clients and their cherished pets!

Liz experienced a seamless introduction to Main Line Veterinary Hospital. Liz and her dog were visiting Dr. Hahn one day, and Liz noticed a "Help Wanted" sign that interested her. Liz was quickly hired, and she has enjoyed working at the front desk and in the exam rooms for seven years. She loves assisting in surgery, as she always gains valuable knowledge from watching the veterinarian perform his work.When Liz leaves the hospital each day, she enjoys life in Malvern with her young son and their cat Knuckles. Adopted in 2012, Knuckles is currently five years old and likes being in charge of the house. Knuckles has an interesting hobby: she enjoys chewing the heads off toy action figures. Liz' son also owns two pot-bellied pigs that live at his grandfather's farm. Optimus and Jake get the royal treatment, as Liz' son loves to feed them and make mud puddles for them during the summer.


---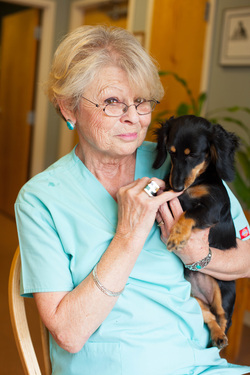 Dyann Juliano

Receptionist/Veterinary Assistant

Dyann Juliano spent much of her childhood with her farm animals and Gordon Setter, Jackie as playmates. An only child, she loved her life on her father's Pennsylvania farm, spending many joyful years there. Growing up with cows, horses, goats, pigs, chickens, and barn cats, Dyann gained a love and respect for the animals that were an important part of her life. Today, she treats her clients' beloved pets with that same respect, helping to provide the compassionate care these loving animals deserve!

In the 1970s, Dyann moved to New Hope, Pennsylvania, along with her young dachshund. She took the dog to a new veterinary practice for a physical exam. That visit marked the beginning of Dyann's veterinary medicine career. The veterinarian offered her a position and she eagerly accepted. Dyann spent several rewarding years working at this practice.Dyann has also been fortunate to share in Main Line Veterinary Hospital's success since its 1992 launch. She had formerly worked with Dr. Hahn, and was very happy to join him in his new practice. She enjoys greeting clients when they arrive for their pets' appointments, and also helps the veterinarian with patient exams and treatments.Throughout her life, she has been involved with art and antiques. In the late 1960s she opened The Artefact, the first art, antiques and fine crafts market in Philadelphia. Later, Dyann lived for years in St. Thomas, U.S.Virgin Islands. She traveled throughout the Caribbean islands, purchasing paintings and sculptures for a well-known St. Thomas art gallery. Here, she also won Addy Awards for her print and radio advertising in the Southeast U.S. and Caribbean Regional markets.Dyann shares her home with her husband Tony and a new family member. Gypsy, a miniature longhaired dachshund who has stolen their hearts. This charming little girl is full of playful energy. Overall, their doxie is quite a precocious spirit, who always succeeds in bringing joy and laughter to the Julianos.


---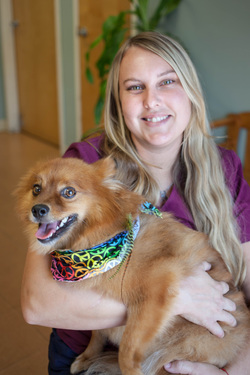 Melissa McCallin

Receptionist/Veterinary Assistant

Melissa McCallin started working at Main Line Veterinary Hospital in the Summer of 2015. She recently moved back into the West Chester area from Miami where she lived and had her own Grooming/Pet Sitting/Dog Walking business for 3 years. Melissa knows that working with animals on a daily basis is the best job in the world and she truly enjoys it. Having previously worked for a vet practice, she knew it was a great opportunity to work and grow with Main Line Vet.

Melissa was always around animals as a kid. Her family had as many as 16 pets at once: everything from dogs, cats, birds, rabbits, ducks, fish, and even reptiles. Her parents' passion and kindness for animals was embedded into her and is exactly the reason she has loved working with animals for over 13 years.

When Melissa turned 15, her first job was at a dog kennel and from there she worked through various animal positions such as pet stores, veterinary hospitals, and even grooming shops. She knew she wanted to work only with animals for the rest of her life. While in Miami, Melissa rescued her dog Peabo, a German Spitz, and her two cats, Archimedes and Aristotle, both domestic short haired kitties. Together they all drove back home to Pennsylvania.

Peabo and Melissa enjoy hiking, kayaking, and bicycle rides together. Archimedes and Aristotle enjoy going outside on their harnesses from time to time for some new adventures. Melissa is very excited to start a new chapter in her life working and getting to know the clients at MLVH and their furry friends as well!


---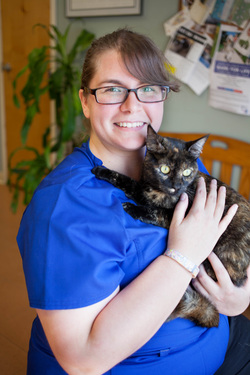 Amanda Podgurski


Veterinary Assistant


Amanda joined the MLVH family in December 2014. She holds a BA degree in English and Business Administration but is currently taking courses toward a Biology degree in order to apply to a Doctor of Veterinary Medicine program. She recently finished her Veterinary Assistant Certification program from the Animal Behavior College.

Growing up in Susquehanna, Pennsylvania, Amanda spent countless hours wandering around the mountain behind her house studying the local wildlife. Her family always had a large variety of pets as they made a habit of providing a home to stray dogs and barn cats. This may explain why, as a senior in college, Amanda and her roommate took in a stray cat. To their surprise, she was pregnant and gave birth in their apartment!
Unfortunately, Amanda and her roommate also learned that Feline Leukemia is very deadly disease.

Amanda really enjoys the opportunity to meet our wonderful clients and their four-legged children while learning more about veterinary medicine from the doctors. She is fascinated by observing the process of coming to medical diagnoses as well as studying the intricacies of surgery. You will meet Amanda on most any Saturday morning.

When she's not working full time managing a university bookstore, taking courses to fulfill her dream of becoming a veterinarian or working at Main Line Veterinary Hospital, she lives in West Chester with her boyfriend, Mark, and their rescued calico cat, Freya.


---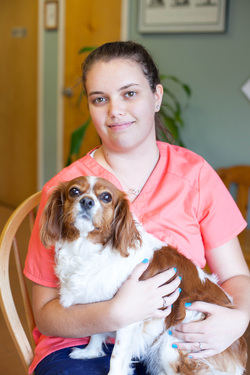 Megan Leslie

Kennel Assistant

Megan Leslie has been passionate about animals since she was a young girl, and she's always enjoyed at least one pet in her life. When Megan was four years old, her parents brought home Zoe, a beautiful chocolate Labrador retriever who became Megan's best friend. Zoe showed Megan the value of loving companionship, and she inspired Megan to find a rewarding career working with animals. Today, Megan works as a kennel assistant, providing her clients' pets with a squeaky-clean place to stay and much love and attention!

Born in West Chester, Pennsylvania, Megan and her family moved to Thorndale when she was a young toddler. She continued her love of animals, and enjoyed Zoe as her faithful companion. While Megan was in high school, she came upon a tiny duckling who needed help to reunite with his mother and siblings. Megan felt much satisfaction when she could return the cheeping little bird to his family.After Megan graduated from high school, she attended Harcum College before transferring to Johnson College of Technology, where she will finish her degree. Megan joined the Main Line Veterinary Hospital care team in February 2014, and she thoroughly enjoys her job, caring for the animals like they're her own cherished pets.Megan has also taken many opportunities to learn more about veterinary medicine. She has shadowed the veterinarians during their exam room appointments, has learned to operate the pharmacy's equipment, and has drawn up patient vaccines. Megan has also observed several interesting surgeries and dental procedures.Each day after work, Megan enjoys life with Charlee, her three-year-old yellow Labrador retriever who reminds Megan of Zoe, her childhood dog. Because Charlee is quite intelligent, she quickly learned desired behaviors such as "sit" and "lie down." Charlee can also spend hours chasing the lawn mower and playing ball. When the weather heats up, Charlee loves to lie in her own personal pool filled with cool water. During the winter, Charlee romps in the snow like a puppy. You might say that Charlee really is a dog for all seasons.


---